Let's start modelling!
---
First of all - we're making HORNS, horns aren't square! Delete the cube!
Pressing 'A'
will select or de-select everything.
Right click
on the cube and press your
Delete
key.
Bam! No more cube.
Now how do we make stuff?
Press Spacebar
, highlight 'Add', highlight 'Mesh' and then left click on
'Cylindar'
.
IT games prefer items to be low-poly, so
change the Vertices Number from 32 to 16.
Press OK.
---
Moving, Rotating & Resizing an Object in Blender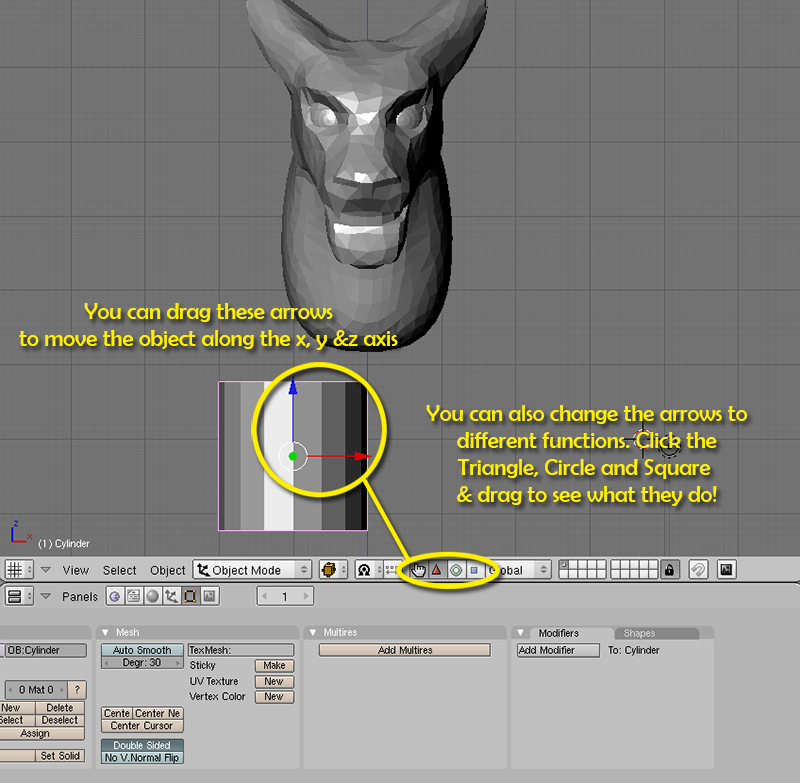 The triangle will move the object while the circle will rotate it. The square allows you to "squish" or widen your object along the x, y and z axis.
To resize
an object,
press 'S'
and move your mouse in/out to see it resize.
Position your "horn" in the appropriate place using what you just learnt ;D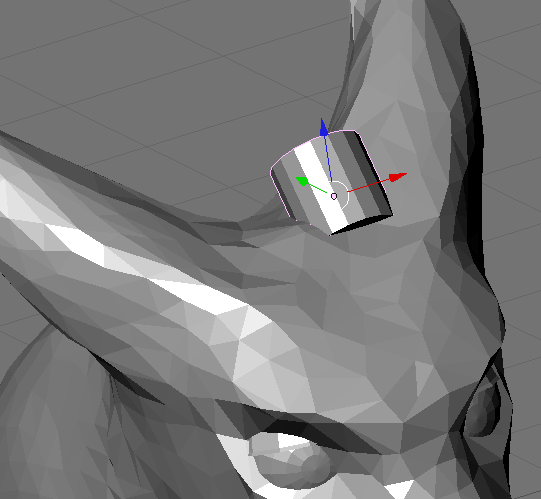 Editing the Object
To Edit the object,
Press 'Tab'
.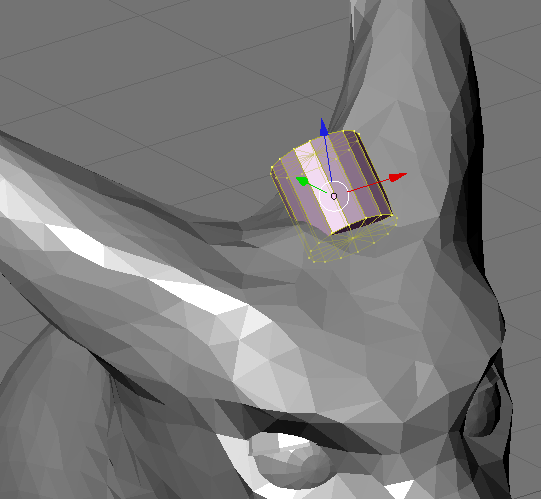 All those little pink dots are Vertices. Those are what you will use to edit the mesh (since I find them easier than editing it via faces or edges.)
Just like how 'A' selected every object, you can select and de-select all vertices the same.
You can also select multiple vertices (or objects) by
Pressing 'B'
, clicking and dragging a square (area) over the vertices (or objects) you want to select.
You can
Press 'E'
to "Extrude" the object, by first selecting the vertices you want to extend and then
drag with the mouse & click to release.
Alternatively you can
click immediately and then use the RGB (Red, Green & Blue) arrows/circle to move/rotate the new vertices
.
Select the "back" vertices, Extend them and then Move, rotate & slightly shrink the new vertices to look similar to this image.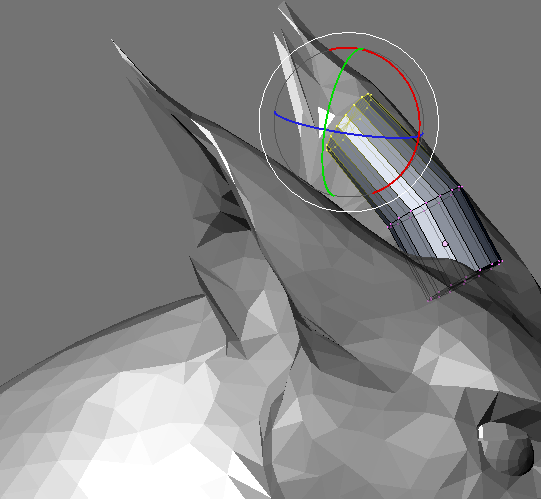 Keep doing this until you make a horn at whatever length you want

See how easy it is?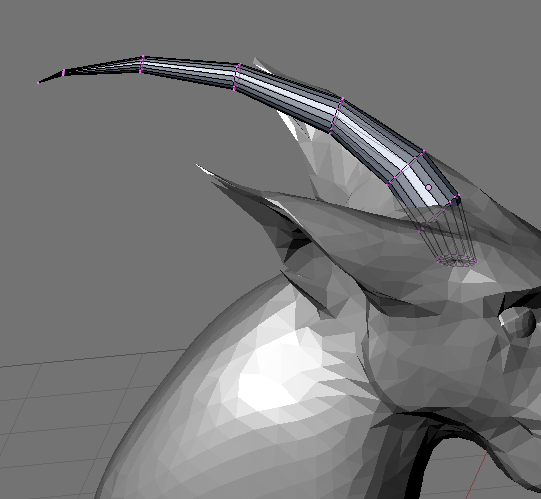 Now, the end of your horn is not quite a point, even though it may look it. What you want to do is
Merge
the last circle of vertices.
Press 'Alt+M'
and a box will pop up.
Choose 'At Center'
- another box will appear simply stating how many vertices were merged (in this case, 16).
Look at that! You made a horn! But usually animals with these kind of horns have two, right? Let's clone it!
---
Duplicating an object
Select everything you want to duplicate/clone.Press 'Shift+D'
and it will duplicate it for you.
REMEMBER TO CLICK SOMEWHERE OR THE OBJECT WILL MOVE WITH THE MOUSE.
Then use the RGB arrows to move it to the other side of the head.
---
Mirroring an object (a.k.a. flipping)
Now something's slightly wrong with this horn... we need to flip it!
To flip an object go Mesh > Mirror and choose the Axis that you want to flip it on. In this case, it is X (Global)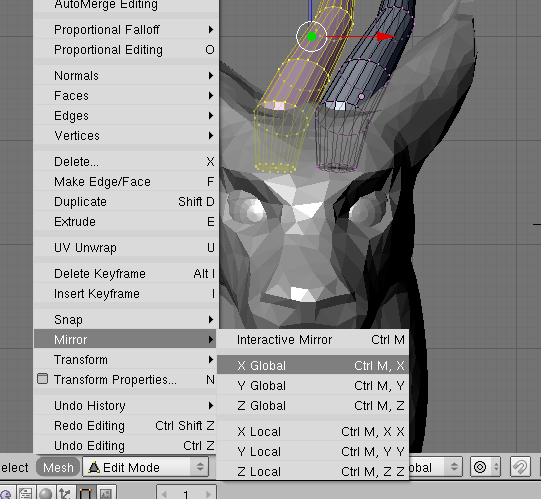 But wait, there is something you MUST do if you mirror objects!!!
Flip Normals to prevent mesh/texture Breakage!
Select your mirrored object/parts,
Press 'W'
and press 'Flip Normals'.
There are a lot of other settings in there as well that you can try out later.
---
How to create UV Maps
Make sure you're still in edit mode.
This is the easiest and simplest way to unwrap a UV however on some models it is NOT the best.
Reset the camera to the side view. (Hint: Press 3 on the numpad).
Select all the vertices.
Press 'U'
and select
Project from View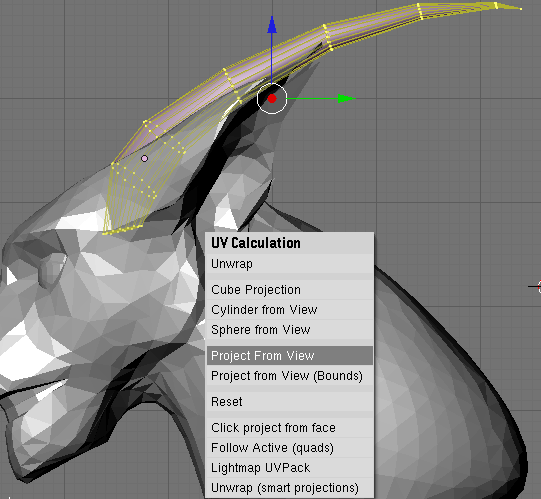 Split the Screen by right clicking on the window's border and selecting Split Area. Then drag where you want to split the screen. You want to have two (2) windows visible.
Change the Window Type to 'UV/Image Viewer'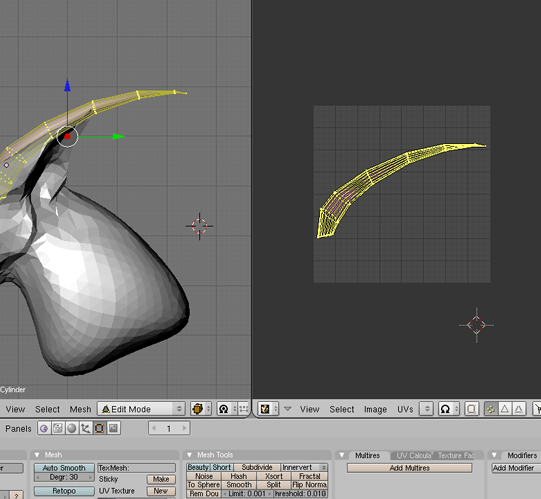 You can
Resize a part of a UV by using 'S'
but to
move a UV part, drag it with the mouse.
To quick-select a part of the UV,
Press 'L'.
Exporting UV maps to create textures
You can Export the UV Maps by pressing UVs > Scripts > Save UV Face Layout
Press OK
and tell it where you want to save it and what file name you want to give it.
Creating Textures using the UV
Open any image editing program (e.g. Photoshop) and open your saved UV map. Draw on it like you would any other texture

Applying Textures to the Object
Back in Blender,
Press 'Image'
and
press 'Open'
then
search for your texture
(saved as a jpg, jpeg, bmp or png) and
press Open
.

it's coloured!!... wait, no it's not?!
Change your Draw Type to 'Textured'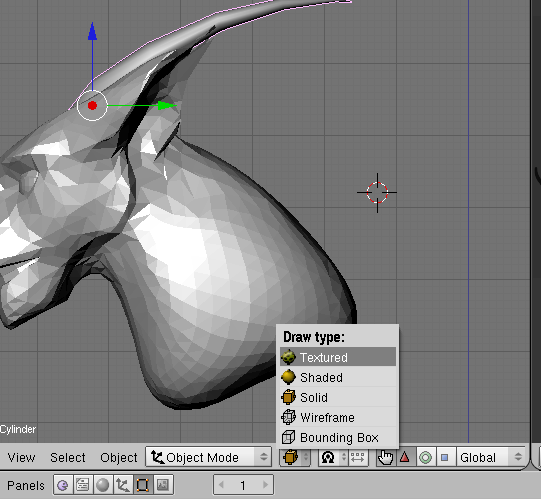 Yay!
---
That's it for now guys, I will re-make my Rigging tutorial at a later date but for now I hope this one makes more sense than the old meshing tutorial