Going to be posting WIP of prey I animate and whatnot because I do take pride in what I've been able to achieve considering I am a novice animator. Fair warning 95% of these will be GROWL only but every now and then I may release a free-to-anyone prey and hence why I feel it's worth posting here.
The title will change depending on whatever critter I'm currently posting WIP of.
DRAGON
(Wyvern)
Code:

- Bought Model
- Rigged by Me
- Animated by Me (Idle/Run/Attack1/Die)
- UV Unwrapped by Me
- Texture will be made by Witacha

So this first one is for GROWL but since it's my biggest prey related project yet I wanted to post it here since I am rather proud of how it's going so far.
(the animation for flying (run) was modified since this was taken. He now 'bobs' up and down as he flaps by team suggestion.)
(it doesn't have that pause in the actual animation, the gif doesn't loop properly)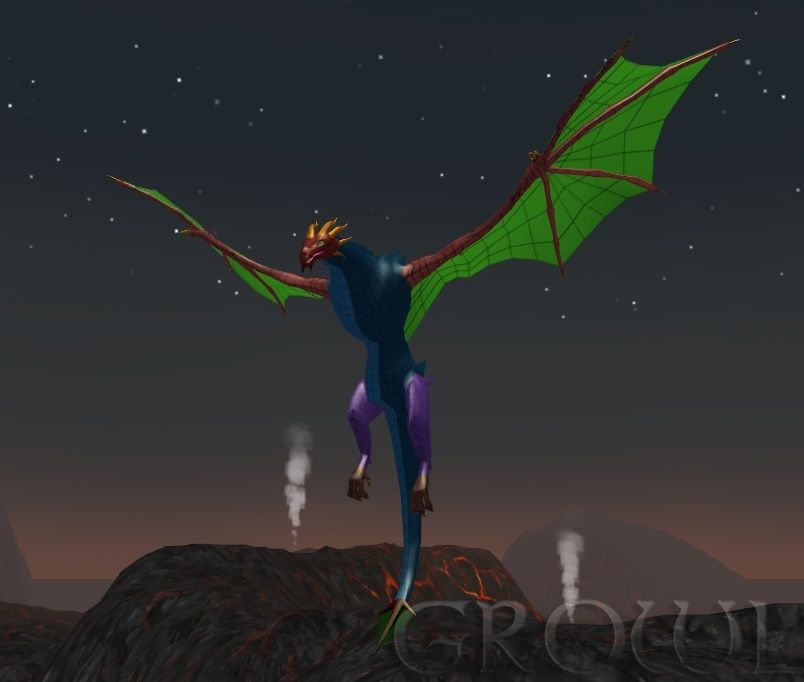 (this was a preview for Witacha to help identify what parts of the UV was where on the model so it could be textured without the worry of "WHERE THE HELL IS THIS PIECE???"

This was also taken after I fixed issues with the mesh not playing nicely with one of the bones... so it was all over the place.... took a bit but it was fixed!)
So these are some previews!
I was a bit worried after animating it because I had never UV unwrapped a prey model before and had originally asked two others, then was going to resort to asking someone else on KITO... but being a little paranoid my dragon would go walk about after getting uv unwrapped and suddenly appear on another server (and if you think I'm being overboard in said paranoia please remember I was recently hacked)....
but I ended up looking up some good tutorials, found a great easy to follow one (until I stopped following the steps and was like LOL WHO NEEDS INSTRUCTIONS) and was able to UV unwrap it!... sort of. The unholy abomination that is the UV should be buried and never see the light of day. I pity our team's texture artist who has to texture this ;n;
We're currently holding a vote on the forum regarding what the dragon's name will be when it's released in the next update. Darlath is currently in lead by 6 votes while Tharos is at 5 votes and Hirador at 3. More than likely whatever names come 2nd and 3rd will be used on other dragons.
So... yeah, this was quiet the experience. He wasn't easy to rig or animate.. let alone unwrap.... but it was definitely a learning experience. When he get a texture on him, I'll post some more photos 

27/08/2015 Update (Dragon)
This is the dragon with one of the textures Witacha has made for us

If you would like to see this guy in-game, grab a team and head down to GROWL, level yourself up and then go track down and have a go at fighting this great dragon in our next update.
When I rig/animate more prey, I'll post more WIP